Rational Therapeutics
Robert Nagourney, MD
When facing a diagnosis of cancer, there are many questions to be answered. Do I need chemotherapy or a targeted agent? What drugs or combinations are going to be best for me? How does my oncologist choose?
For over 20 years, Dr. Robert Nagourney and his staff at Rational Therapeutics have helped answer these important questions for cancer patients all over the world.
Today, much of the selection of chemotherapy is guesswork and is based on "standard" treatment regimens.
As a practicing oncologist, Dr. Nagourney found that these "standard" regimens were often ineffective and toxic. He has spent his entire career studying human cancer biology to determine better ways to select drugs therapies for his patients.
Now, through his 3D functional chemosensitivity test, you too can have your living tumor cells analyzed to determine which drug or combination of drugs has the highest likelihood of killing your cancer cells, prior to you receiving treatment.
Our results have been shown to double response rates and improve survival. With results available in 7 days, you and your physician are now equipped to make the most informed decision to treat YOUR cancer.
Read here what other doctors have to say about us.
Call us today at 800-542-HELP (562-989-6455) to review specifics regarding "living" tumor sample collection/ transportation or to schedule a consultation with Dr. Nagourney. If you cannot visit our office in Southern California, we may be able to schedule a phone or video consult.
News, Videos & Publications

Watch Now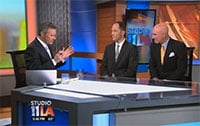 Stage IV NSCLC Lung Cancer Patient Success Story
Subscribe to Blog